About
Specs
Changelog
Reviews (0)
Race along the track, try and get to the finish line first. Get 10 points for the team and the person who gets to the finishing line. If you fall off the cliff you go back to the start line. Go through the pitstop for an health and Armour boost.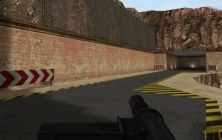 Max Players:
Not Specified
Last Updated:
01/10/10
Version:
1.0 (Complete)
Views:
4,108
Videos for Dust Race 2003
Be the first person to provide a video for this add-on!