About
Specs
Changelog
Share
Yeah I'm back with the touhou survivors. This one had some arm cannon I had to remove, thank god there's a hand underneath there. Also someone told me that crest of hers is supposed to be an eye, kinda weird. and don't worry, the cybervermin won't kill me, I won't allow it!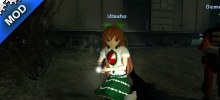 Author:
1337gamer15/Thekerorofan1
Last Updated:
04/28/12
Version:
1.2 (Complete)
Views:
20,866
Be the first person to provide a video for this add-on!
More addons by 1337gamer15