School soccer stadium (Survival & Scavenge)
About
Specs
Changelog
Reviews (1)
The great fight at school soccer stadium somewhere in dead city. Navs are working fine. This map version is complete. Survival and Scavenge play modes available. Thanks for playing. Left 4 Dead 2 - Add-on SUPPORT tool required ! To play only with bots, type in console - sb_all_bot_team 1.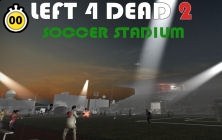 Max Players:
Not Specified
Last Updated:
03/05/10
Version:
1.5 (Complete)
Views:
32,730
Videos for School soccer stadium (Survival & Scavenge)
Be the first person to provide a video for this add-on!
Share School soccer stadium (Survival & Scavenge)