About
Specs
Changelog
Share
Whether by sea, or by air, it doesn't matter how you got to the island, there's only one way to leave. Fight for your life in either the church, partially finished house, incinerator chamber, the docks, or beyond the flame *hint*. Did I mention zombies climb up from under the gravestones?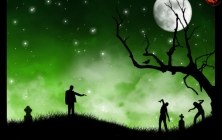 Author:
TurdBurglar and Stay Puft
Max Players:
Not Specified
Last Updated:
06/29/11
Version:
1.0 (Complete)
Views:
24,877
Be the first person to provide a video for this add-on!