Reload Intense Shouts with Swears
About
Specs
Changelog
Share
In L4D2 there are three different kinds of reload shouts (normal, quiet, intense) but I found the intense ones are not really 'intense', I prefer hearing some swears added, so I made this. It's simple but really brings the immersion while you reload during some overwhelming zombies incoming.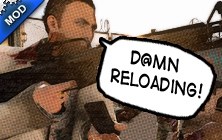 File:
reload_intense_shout_swears.vpk
Last Updated:
08/02/11
Version:
1 (Complete)
Views:
43,254
Be the first person to provide a video for this add-on!