Special Forces SPAS-12 (White)
About
Specs
Changelog
Share
A more detailed version of the SPAS-12 with White camouflage. Updated. Read changelog. Screenshots are with Arby's anims. Works with and without them.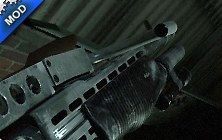 Author:
RPDSurvivor - American Hero
File:
special forces spas-12.vpk
Last Updated:
12/15/11
Version:
1.5 (Final)
Views:
19,867
Be the first person to provide a video for this add-on!
More addons by DoingGreat!