Ammo Pack HD Version - Custom
About
Specs
Changelog
Reviews (0)
This skin replace the First Aid. Ammo Pack is a deleted item from Left 4 Dead 2 Beta.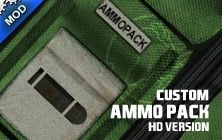 Author:
PkzeiroBR & Valve
File:
ammo pack hd version - custom.vpk
Last Updated:
07/27/11
Version:
1.0 (Complete)
Views:
8,194
Videos for Ammo Pack HD Version - Custom
Be the first person to provide a video for this add-on!
Share Ammo Pack HD Version - Custom
More addons by PkzeiroBR