Painis Cupcake for Hunter
About
Specs
Changelog
Share
Something i created in spare time, replaces the Hunter's sounds to Painis Cupcake's lines. Video coming soon. Please check changelog first. Installation: put the .vpk into your addons folder. If you double click on the .vpk , i don't guarantee it will work. I prefer putting it into addons.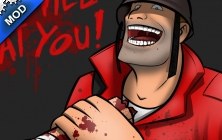 File:
painiscupcake_hunter.vpk
Last Updated:
08/08/11
Version:
0.6 (Beta)
Views:
13,120
Be the first person to provide a video for this add-on!