Mr Foster - (replaces Nick)
About
Specs
Changelog
Reviews (1)
Killing Floor's Mr Foster has joined the fight and wants to show what a guy in a gasmask can bring to a zombie killing spree. Move aside Nick because you're not needed when you have Mr Foster on your team.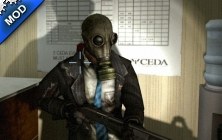 Last Updated:
08/04/11
Version:
1 (Final)
Views:
13,851
Videos for Mr Foster - (replaces Nick)
Be the first person to provide a video for this add-on!
Share Mr Foster - (replaces Nick)
More addons by MrLanky