Scorpion - (replaces Ellis)
About
Specs
Changelog
Reviews (1)
MORTAL KOMBAT!!! Get over hear and listen up! From ripping heads off opponents to burning others to a crisp, Scorpion has came to show all you mortals hows blood is to be shed. Unfortunately while using this mod Ellis will be killed off.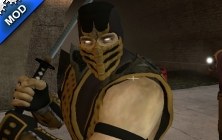 Last Updated:
08/05/11
Version:
1 (Final)
Views:
21,802
Videos for Scorpion - (replaces Ellis)
Be the first person to provide a video for this add-on!
Share Scorpion - (replaces Ellis)
More addons by MrLanky