About
Specs
Changelog
Reviews (1)
made coat leather, added leather gloves, new denim texture for pants. made normal for leather effect. PLEASE DO NOT REDISTRIBUTE, STEAL OR USE MY WORKS AS A BASE WITHOUT ASKING 1st.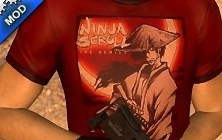 Last Updated:
06/29/12
Version:
2.1 (Complete)
Views:
6,132
Videos for Ninja Scroll Ellis Body
Be the first person to provide a video for this add-on!
Share Ninja Scroll Ellis Body
More addons by k1chwa