About
Specs
Changelog
Reviews (3)
A Zoey replacement mod using one of the casual attire models of Ayane from the Dead or Alive series. Has lobby pics(although the main lobby pic doesn't always work for some reason...looking into that), fallen pic, FPS arms and right hand fix applied. No facial anims though.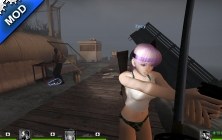 Last Updated:
08/23/11
Version:
0.1 (Complete)
Views:
41,046
Videos for Ayane (bedtime)
Be the first person to provide a video for this add-on!
More addons by MrLanky