About
Specs
Changelog
Reviews (0)
now that ive got your attention. 2nd reskin i made for lewis a few years ago. i used francis head textures to build new head for lewis NOT REDISTRIBUTE *to call this racist is to call any and all mods that replace louis (with anything other then a black male) racist too...so knock it off...ya racist retards!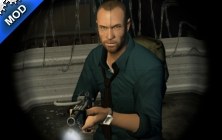 Last Updated:
08/29/11
Version:
1 (Final)
Views:
21,329
Videos for Head for New Lewis
Be the first person to provide a video for this add-on!
More addons by k1chwa