Baseball Bat Brushed Aluminum (with sound)
About
Specs
Changelog
Reviews (10)
i made this awhile back for jj benson. it has brushed aluminum texture and normal map. i added tf2 metal bat ping to sounds. (only negative - baseball bat uses same sound files as cricket bat .. so it too will also have metallic ping sounds) PLEASE DO NOT REDISTRIBUTE, STEAL OR USE MY WORKS AS A BASE WITHOUT ASKING 1st.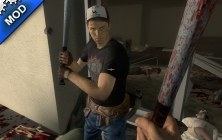 Last Updated:
07/05/12
Version:
1.1 (Complete)
Views:
28,203
Videos for Baseball Bat Brushed Aluminum (with sound)
Be the first person to provide a video for this add-on!
Share Baseball Bat Brushed Aluminum (with sound)
More addons by k1chwa