About
Specs
Changelog
Reviews (0)
Now you can smash the zombies in style! Why are we smashing the zombies, you ask? Because they don't dig giant robots. Now destroy them.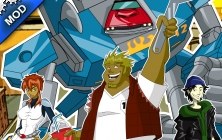 Last Updated:
09/10/11
Version:
1.1 (Complete)
Views:
10,077
Videos for Megas XLR Melee Pack
Be the first person to provide a video for this add-on!
Share Megas XLR Melee Pack
More addons by diediedie765