About
Specs
Changelog
Reviews (9)
Made this to go with the Sheva mod i made earlier. Nick is replaced with Chris in his outfit during the beginning of RE5. Model has faceposing, eyetracking, jigglebones on his shirt and boomer bile textures.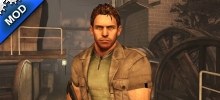 Last Updated:
09/21/11
Version:
1 (Complete)
Views:
42,473
Videos for Chris Redfield
Be the first person to provide a video for this add-on!
More addons by Pajama911