Metal Gear Solid Fan Ellis (Body Option 1)
About
Specs
Changelog
Share
Here is Body Number 1 for the MGS Fan Ellis Mod. There are 4 different version of the Body for Ellis in this mod. Credits to K1CHWA for making this for me.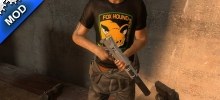 File:
ellis body_mgs b1.vpk
Last Updated:
09/29/11
Version:
1 (Final)
Views:
4,328
Be the first person to provide a video for this add-on!