About
Specs
Changelog
Share
this is a mod that makes it posible to take the smg as a side arm, you have infinite ammo. the bullets still do the same damage as the normal pistols. you can still have the pistols, but you cant have the smg as main weapon anymore, when down you have your smg but low firerate.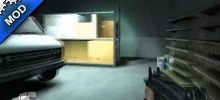 File:
Automatic Sidearms.vpk
Last Updated:
09/26/11
Version:
1 (Final)
Views:
12,535
Be the first person to provide a video for this add-on!
More addons by 3hellknight3