Metal Gear Solid Fan Ellis (Body Option 4)
About
Specs
Changelog
Share
Here is Body Option 4 of the Metal Gear Solid Fan Ellis Mod. Same White T-Shirt as Option 3, just with the Twin Snakes picture on the back.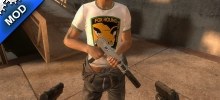 File:
ellis head_mgs w2.vpk
Last Updated:
09/29/11
Version:
4 (Final)
Views:
3,800
Be the first person to provide a video for this add-on!