It's a Shovel, can you dig it?
About
Specs
Changelog
Share
Ok, I admit it is probably the worst pun ever in the title. But that aside here is another weapon mod. This replaces the ever unpopular cricket bat with a shovel. It uses the sounds from the frying pan to sound more gongtacular. I might actually bring the V_model down so you can see the top better.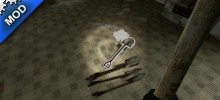 Last Updated:
10/08/11
Version:
1.0 (Complete)
Views:
21,615
Be the first person to provide a video for this add-on!