Hellsing 454 Dark Grey Re-skin
About
Specs
Changelog
Share
A reskin of the Hellsing 454 pistol. Download and enjoy. Made by Urik Kane and I had asked him if I can upload this here.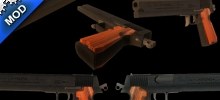 Author:
Urik Kane/Doktor Haus/TheFanciestofPants/mrlanky/arby26
File:
hellsing454dark grey.vpk
Last Updated:
10/08/11
Version:
1 (Final)
Views:
14,175
Be the first person to provide a video for this add-on!
More addons by Vince Lionheart