Weathered M4A1 RIS w/Special Forces - Blac...
About
Specs
Changelog
Share
I tried applying my SF-B camo to this skin, and found it hard to darken it without turning the entire gun into an ugly, pitch black model. However in the end I was able to make the skin look well with the SF-B camo. Some of you saw this uploaded as Special Forces - Grey camo. Sorry about that.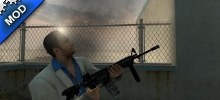 Author:
RPDSurvivor - American Hero
File:
weathed m4a1 special forces - black.vpk
Last Updated:
10/10/11
Version:
1.0 (Complete)
Views:
13,984
Be the first person to provide a video for this add-on!
More addons by DoingGreat!