L4D1 survivors mug shot replacement
About
Specs
Changelog
Share
Saw the other one and I thought of uploading mine. This changes the mug shots of L4D1 survivors to suit the style of L4D2. Hopefully, I was able to achieve this. The addoninfo.text is messed up and contain outdated info, so don't pay any attention to it.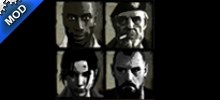 File:
L4D1 survivors icon replacement.vpk
Last Updated:
10/16/11
Version:
1 (Final)
Views:
5,751
Be the first person to provide a video for this add-on!