About
Specs
Changelog
Share
Version 2 of my wartorn ak47 skin. This time I removed the digital camo and made most of the gun matte with scratches and the orange extended mag. I also made a new synthetic texture for the grip and the stock.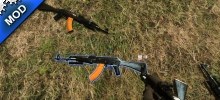 File:
wartorn ak-47 - v2.vpk
Last Updated:
10/19/11
Version:
1 (Beta)
Views:
6,514
Be the first person to provide a video for this add-on!
More addons by enzocool98