Tropical Remington 870 Magnum
About
Specs
Changelog
Share
A reskin for the Remington 870 Magnum(Chrome Shotgun). Features Tiger Stripe Camo, a new synthetic texture and a matte lower barrel. Now comes with a normal. Wooden Version coming soon.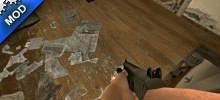 File:
tropical remington 870 magnum - synthetic.vpk
Last Updated:
10/25/11
Version:
1 (Complete)
Views:
7,495
Be the first person to provide a video for this add-on!
More addons by enzocool98