Metal Gear Solid Style HK Pistols (Unsilen...
About
Specs
Changelog
Share
Metal is now darkened. Normal maps added. Glossiness is reduced. Added a little red to the LAM of the SOCOM. And added lightbulb textures to the LAMs (Don't know why that wasn't there in Arby's original release) This is for the Unsilenced version.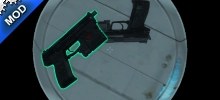 Last Updated:
11/21/11
Version:
1.1 (Final)
Views:
9,991
Be the first person to provide a video for this add-on!