Another Melee Weapon Pack
About
Specs
Changelog
Reviews (0)
Included: Tonfa & Riot Shield combo (tonfa_riot), Nailbat, Garbage Can Lid & Shovel combo (gman), Double-sided Battle Axe (daxe), Sword & Shield combo (longsword), Fubar, Wrench. Only play in single player or on a local server. Disable other melee weapon addons. Use Total Melee Unlocker Missions.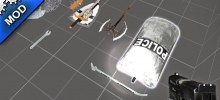 Last Updated:
12/02/11
Version:
1.0 (Complete)
Views:
60,497
Videos for Another Melee Weapon Pack
Be the first person to provide a video for this add-on!
Share Another Melee Weapon Pack
More addons by Lurch