Injured Francis (w/goatee) Head
About
Specs
Changelog
Reviews (0)
same as original edit but this edit has the return of the goat. i was never satisfied with look of blood on beard , but ya'll wanted it. PLEASE DO NOT REDISTRIBUTE, STEAL OR USE MY WORKS AS A BASE WITHOUT ASKING 1st.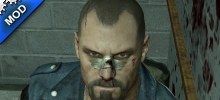 Last Updated:
07/02/12
Version:
1.2 (Complete)
Views:
10,927
Videos for Injured Francis (w/goatee) Head
Be the first person to provide a video for this add-on!
Share Injured Francis (w/goatee) Head
More addons by k1chwa