About
Specs
Changelog
Reviews (2)
louis sportin a goatee. made new normal to give facial hair a little depthDO PLEASE DO NOT REDISTRIBUTE, STEAL OR USE MY WORKS AS A BASE WITHOUT ASKING 1st.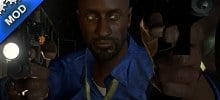 Last Updated:
03/03/14
Version:
1.3 (Final)
Views:
13,485
Videos for Goatee Louis Head
Be the first person to provide a video for this add-on!
More addons by k1chwa