About
Specs
Changelog
Share
This mod changes the grenade launcher and gives it 200 Bullets, an M60 Model, and Fast Fire Rate. Dont be fooled by the pics... That is the new grenade laucnher, NOT AN M60!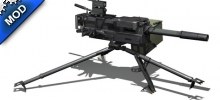 Author:
Aras4745, Barrage_o_Fail
Last Updated:
01/02/12
Version:
1.0 (Beta)
Views:
22,640
Be the first person to provide a video for this add-on!