Eranthis' L4D1 Style Survivor Portrait Icons
About
Specs
Changelog
Share
Replaces the L4D2 survivor HUD icons with L4D1 styled ones. Eranthis is the original creator and I, XD001, improved the quality of the images for when they get re-sized in-game, such as the scoreboard and when you press Tab.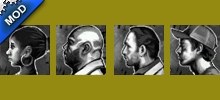 File:
L4D1 Style Survivor Portrait Icons.vpk
Last Updated:
05/03/12
Version:
1.1 (Final)
Views:
11,038
Be the first person to provide a video for this add-on!