Remington 870 Hunter Xtreme V2
About
Specs
Changelog
Share
A revision of my Remington 870 Hunter Xtreme Chrome Shotgun Retexture. V2 now comes with better and more detailed textures and new shaders and phong settings.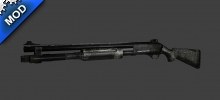 File:
remington 870 hunter xtreme v2.vpk
Last Updated:
02/25/12
Version:
2 (Complete)
Views:
40,225
Be the first person to provide a video for this add-on!
More addons by General Icarus