Vashts1985 Desert Eagle Silver (Alternativ...
About
Specs
Changelog
Share
This is the arby's v2 animation. A special thanks to CrazedAnthem sending me the file! Credits: Vashts1985-Model Thanez-Textures Will-LAM arby26-Anim A1-Compile miztaegg-Retex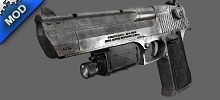 Last Updated:
01/21/12
Version:
1 (Complete)
Views:
38,645
Be the first person to provide a video for this add-on!