About
Specs
Changelog
Share
Here's a strange red head that was pretty minor in Lucky Star. one more so i can rid my hands of this lucky star buisness. and why does the L4D maps uploader only work whenever it feels like it?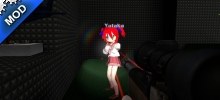 Author:
1337gamer15/2234083174
Last Updated:
02/17/12
Version:
1.0 (Complete)
Views:
9,899
Be the first person to provide a video for this add-on!
More addons by 1337gamer15