About
Specs
Changelog
Reviews (1)
Great Scott! Marty's got himself trapped in the year 2009 and he needs to escape the zombie apocolypse so he can find a way back to 1985.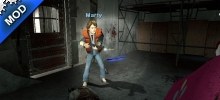 Author:
1337gamer15/Unknown
Last Updated:
01/24/12
Version:
1.1 (Complete)
Views:
14,092
Videos for Marty McFly (Ellis)
Be the first person to provide a video for this add-on!
Share Marty McFly (Ellis)
More addons by 1337gamer15