doubled size and textured it multicam...i also made a normal for it. made this originally for chew-az, the only person ive ever ok'ed to port my stuff to l4d1. thanx chew-az. PLEASE DO NOT REDISTRIBUT WITHOUT ASKING 1ST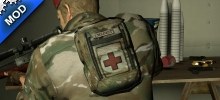 Last Updated:
08/19/12
Version:
1.1 (Complete)
Videos for Multicam Medkit
Be the first person to provide a video for this add-on!
More addons by k1chwa