L4D1 Saferoom Door Replacement
About
Specs
Changelog
Share
I always liked the Left 4 Dead 1 saferom door more than the sequal's, so I made a mod to replace it. It will not work on sv_pure servers, and the only bug that I have found is that, if you shoot the door, the bullet decals do not show up, though I'm not sure how to fix that.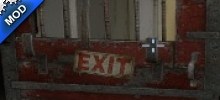 File:
l4d1 saferoom door.vpk
Last Updated:
02/19/12
Version:
1 (Complete)
Views:
6,021
Be the first person to provide a video for this add-on!