[GUI] Custom Circle Reticle
About
Specs
Changelog
Reviews (6)
Something I put together real quick and thought I'd share. This replaces the original L4D2 sniper scope sight with a fading, 'circle,' styled sight.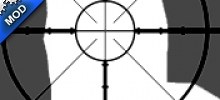 File:
[HUD] Custom Circle Reticle.vpk
Last Updated:
10/15/12
Version:
1.1 (Final)
Views:
12,103
Videos for [GUI] Custom Circle Reticle
Be the first person to provide a video for this add-on!
Share [GUI] Custom Circle Reticle
More addons by Milady