My first mod, ( [mL] Tank) Skin modification for tank (partial infection) Update: *Upgraded the partial infection texture to make the end of the infection look less sudden and have a degraded effect. *Corrected the 'normal' map, now the infected part reflects more light but the rest of the textures are the original ones from the original tank. *In the first VPK, the partial infection was 'black', now it has brown color. *Added a different tank for 'The Sacrifice' map, so you have the tank that appears in all maps, and a different tank that appears in 'The Sacrifice' map in the vpk. Logo by: astroplus Translation by: Shanny Skin mod by: Crissans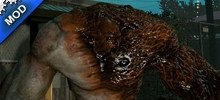 File:
[mL] Brown Tank.vpk
Last Updated:
02/28/12
Version:
2.1 (Complete)
Videos for [mL] Tank Brown
Be the first person to provide a video for this add-on!
More addons by Crissans