This mod makes minor improvements to the stock L4D2 HUD while still keeping the artistic feel of the original. This is a survivor only HUD improvement for the moment. (Read the changelog for more details.)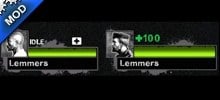 Last Updated:
03/03/12
Version:
1.1 (Complete)
Videos for Improved Stock HUD
Be the first person to provide a video for this add-on!
More addons by Lemmers