About
Specs
Changelog
Share
The last of these possessed doll girls. To be honest I actually tried watching and episode of Rozen Maiden, and I still don't get it, Is she possessed by the ghost of the girl who owned her? Anyways, to keep the cybervermin away, I didn't make the model, but you should know that from the start.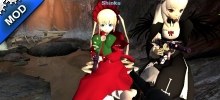 Author:
1337gamer15/MMDFakewings18
Last Updated:
02/27/12
Version:
1.0 (Complete)
Views:
15,354
Be the first person to provide a video for this add-on!
More addons by 1337gamer15