GaNi Mutation Mod with Single Player Fixed
About
Specs
Changelog
Share
In my opinion about mutation mod, I've found GaNi was the best. Now, with Dziggy single player fixed came out earlier, I've done some improvement over his mod. Original credits goes to GaNi (Gaming Extreme) and Dziggy. Hopefully you all gonna like this. Feel free to report any bugs/suggestions.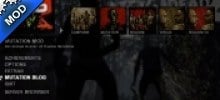 Author:
Agent 47, GaNi, and Dziggy
Last Updated:
05/25/12
Version:
1.3 (Complete)
Views:
17,538
Be the first person to provide a video for this add-on!