About
Specs
Changelog
Share
I made this a while ago as a bonus for a Bill skin I made (which will be uploaded soon). Inspired by Frank West's 'Dead Rising 2: Off The Record' Appearance.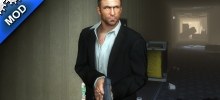 Last Updated:
02/29/12
Views:
< 500
Status:
Unreleased - Watchlist this add-on!
Be the first person to provide a video for this add-on!