About
Specs
Changelog
Share
This is a skin of the default ak47 that was made by Starshadow76 years ago. Given the fact that the phong and exponent made my eyes bleed, I decided to rework the skin myself so it has a lot less bling. Comes with new exponent, and normal map. Works with arby26's anims.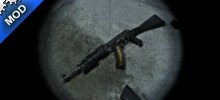 Author:
Starshadow76, daishi3050
File:
custom ak_old anims.vpk
Last Updated:
03/07/12
Version:
1.1 (Complete)
Views:
10,213
Be the first person to provide a video for this add-on!