Seeing people uploading anime stuffs, skins etc. I decide to poke my nose and upload this here. Its a reskin for the guitar with wood textures with a pic of Rin and Len on it. There's a texture glitch behind the guitar though, it shows mirrored pictures of Len. Will fix it if majority wants it fix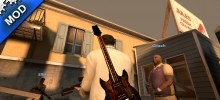 File:
kagamine guitar v1.vpk
Last Updated:
03/05/12
Version:
1.0 (Complete)
Videos for Kagamine twins guitar
Be the first person to provide a video for this add-on!
Share Kagamine twins guitar
More addons by Vince Lionheart