About
Specs
Changelog
Share
After much procrastination, here's Misao! And yes there will be part 3, but there aren't many more lucky star characters that i have models of to work with, so for the next one, i'm gonna have to bring Konata's deceased mother back from the dead.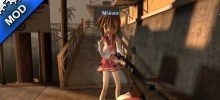 Author:
1337gamer15/2234083174
Last Updated:
03/05/12
Version:
1.0 (Complete)
Views:
10,747
Be the first person to provide a video for this add-on!
More addons by 1337gamer15