Chris Crocker Witch Sound Mod
About
Specs
Changelog
Reviews (0)
Do you guys remember the Chris Crocker Witch mod for L4D1? I contacted the creator of that on YouTube [genmanuman] and asked him if I could release it as a VPK for L4D2. He said yes, and I added a few extra clips for the walking cries/screams/death. Leave Britney alone... OR ELSE!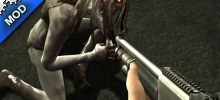 Author:
genmanuman & The ElbowStealer
File:
chriscrockerirl.vpk
Last Updated:
03/10/12
Version:
1.0 (Complete)
Views:
6,475
Videos for Chris Crocker Witch Sound Mod
Be the first person to provide a video for this add-on!
Share Chris Crocker Witch Sound Mod