About
Specs
Changelog
Share
I felt like putting a Team Fortress 2 mod together, it isn't all that good, but if you want me to make a better one when I have more time, send a mail. Comments insulting me will not be tolerated and removed.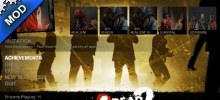 Author:
Cade O. Randall (Adincia)
File:
team fortress 2.vpk
Last Updated:
03/20/12
Version:
1 (Final)
Views:
8,449
Be the first person to provide a video for this add-on!