Battlefield 3-ish M16A4 CQC
About
Specs
Changelog
Share
My re-texture for twinke masta's M16A4 CQC,compiled to L4D2 by Doktor Haus,made to look like the M16A4 in Battlefield 3.This does not include a reskin for the para variant. Features a Dark tan finish, worn-out textures, cloth wrapped around the stock and custom normals and shaders.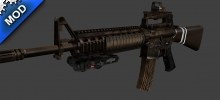 Author:
General Icarus/Doktor Haus/K1CHWA/Twinke Masta/SoulSlayer/Thanez
File:
battlefield 3 m16a4.vpk
Last Updated:
03/31/12
Version:
1 (Complete)
Views:
33,423
Be the first person to provide a video for this add-on!
More addons by General Icarus