About
Specs
Changelog
Reviews (0)
I'm guessing she's related to Satori? well anyways, jigglebones in the ropes. And you guys like my new avatar, or should i change back to banjo and his beer? I sure am a true capitalist.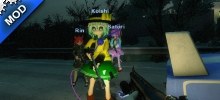 Last Updated:
04/13/12
Version:
1.0 (Complete)
Views:
7,793
Videos for Koishi (Coach)
Be the first person to provide a video for this add-on!
More addons by 1337gamer15